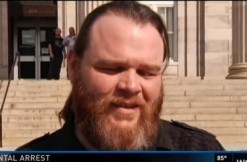 You no doubt remember the man who was arrested for not returning a VHS tape 14 years ago. Well, the case against him was dismissed on Thursday. James Meyers appeared in Rowan County Court, where the charge was dropped in minutes.
He had allegedly failed to return Freddy Got Fingered to J & J Video in Salisbury, North Carolina.
"I don't remember renting videos from there," he told WCNC (via WFAA). "I don't remember buying any videos from there."
A warrant was issued for Meyers, and police didn't immediately serve it. J & J Video closed down in the interim, but that didn't end the warrant. Years passed without an arrest until Meyers was pulled over in March for a broken taillight, and the officer checked his record. Shortly after the story broke, Meyers told WSOC-TV that the movie's star, comedian Tom Green, called him and offered help. Green confirmed they spoke in an interview for Australian television.
"It worried me because I'm a single dad who has fought hard to have my daughter in my life and to have anything like that hinder my time with her was hard to focus on," Meyers told WCNC after the dismissal.
Film critics skewered Freddy Got Fingered after release. The late Roger Ebert famously hated it.
[screengrab via WCNC]
–
Follow Alberto Luperon on Twitter (@Alberto Luperon)
Have a tip we should know? [email protected]