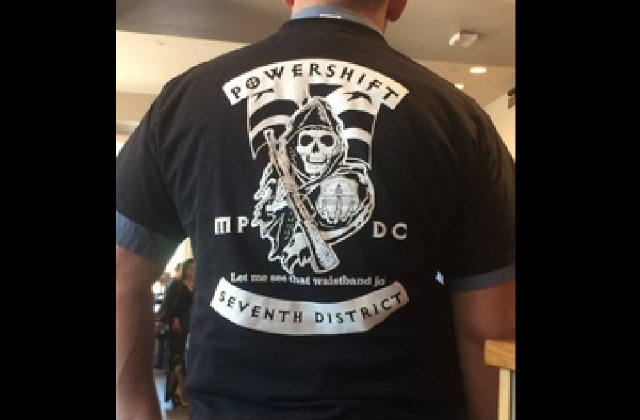 On Tuesday, a Washington D.C. judge dismissed a gun possession case with a black defendant–that is because a cop was seen in a shirt that one activist group says is racist. The prosecution, in a court transcript obtained by The Washington Post, acknowledged that they didn't know if the arresting officers wore it too.
This comes after a petition and separate complaint filed by Law4BlackLivesDC, an activist group of lawyers and other legal workers of color that describes itself as linked to the Black Lives Matter movement. They said that in early June, a Metropolitan Police Department officer was seen wearing an "offensive, racist, and threatening shirt." He even allegedly wore it to court when he was there to testify in a criminal case.
The shirt depicts a Grim Reaper with an assault rifle, a reference to illegitimate frisking, and a "sun cross," which they say is a well-known white supremacist symbol. The reference to the "Seventh District" got them concerned that the shirt could have been worn by multiple officers, not just the one. The MPD announced an investigation July 28, and the cop implicated in the complaint has been put on non-contact status, meaning he can't do anything with the community.
The officer was not reportedly involved in the case dismissed Tuesday, but the arresting officers belonged to the same district. Assistant U.S. Kate Rakoczy recommended that the gun possession trial against Carlos Johnson, who is black, be postponed until the MPD completes its investigation.
"The government very much wants this matter to be thoroughly and effectively investigated so MPD can make the decisions it needs to make about what's appropriate so that we can decide what to do with this information with our own cases," she said, according to the transcript obtained by the Post.
D.C. Superior Court Judge Maribeth Raffinan was open to delaying the trial for a few weeks, but prosecutors wanted months. She decided that it wouldn't "fair, equitable in these circumstances" because Johnson had been behind bars waiting for everything to play out in court. She dismissed the case without prejudice, which means the 24-year-old is not necessarily off the hook for allegedly carrying a 9mm handgun in December. Prosecutors can still press charges again.
[Image via Law4BlackLivesDC]
Have a tip we should know? [email protected]