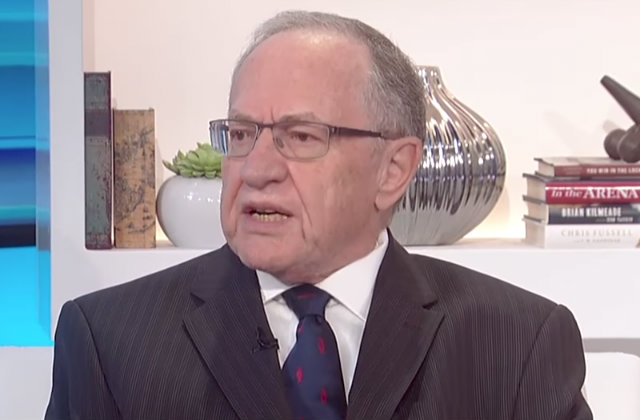 On Sunday, Alan Dershowitz attacked claims that he's racist for suggesting a grand jury based in DC might be biased against President Donald Trump. The Harvard law professor even directed a tweet at Richard Painter, an ethics lawyer in the George W. Bush administration.
It's not racist to recognize – as all lawyers do – that ethnicity, race and political affiliation are relevant in jury selection. https://t.co/52omjusCMz

— Alan Dershowitz (@AlanDersh) August 6, 2017
"Dershowitz: stop the racist BS," Painter tweeted Saturday. "Black people can be just as fair to Trump as white people."
Controversy sprouted over an interview Dershowitz gave Friday to WABC radio. Special Counsel Robert Mueller had reportedly impaneled a grand jury in Washington D.C. as part of his probe into whether the Trump administration colluded with Kremlin election interference efforts in the 2016 election.
Dershowitz suggested that jurors from D.C., whose population leans Democratic and black, are more likely to dislike the president.
"I think it's a tactical move designed to send a message that if the prosecutor decides to prosecute, he will have a real advantage with the jury pool where the case will be held," he said.
Hence, Painter's racism tweet. On Sunday, Dershowitz attacked similar claims by Rep. Maxine Waters (D-California).
Dershowitz famously served as appellate adviser for the defense during O.J. Simpson's murder trial. A mostly-black jury acquitted the football player. The case, about a black suspect accused of murdering his white wife amidst concerns about racism in the Los Angeles Police Department, fueled a still ongoing conversation about race in the legal system.
[Screengrab via Fox News]
Have a tip we should know? [email protected]