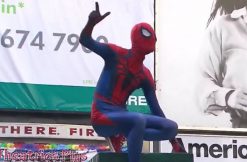 Busker Mark Zilio could seriously pass as comic book character Peter Parker. The lanky Canadian is a regular presence on Toronto streets, performing as "Peter Parkour." The resemblance got weirder this past Halloween when he helped two security guard apprehend a suspected shoplifter, 32-year-old Stephanie Marsh.
"She was very squirmy," he told CTV on Tuesday. Yes, there is cell phone video of the incident.
Marsh is accused of stealing from a costume store. She is scheduled for a November 10 court appearance, but ABC News could not reach her for comment on how she'll address the charges: theft under $5,000, escaping lawful custody, and failing to comply with probation.
Zilio doesn't want anyone to get the wrong idea about his one-time crime-fighting escapade,.
"With great power comes great responsibility" he told the outlet. "It is my responsibility to encourage the fact that yes, there are licensed street performers often in super hero costumes, but no, we do not often intervene and fight crime."
[Screengrab of Zilio via CTV]
–
Follow Alberto on Twitter (@Alberto Luperon)
Have a tip we should know? [email protected]