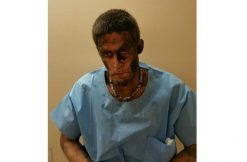 What is it like to shimmy through a chimney? Expect a tight fit and lots of soot, according to California's Ridgecrest Police Department. They claim Keith Allen Schultz, 28, got stuck when trying to climb down into a house. Now he faces one count of first-degree burglary.
Police say a residential burglary alarm got set off on W. Maime Ave. Investigators went to the location, and dispatch spoke with the alarm company. Around that time, they also got a call from an "unknown female" who said a friend got stuck in a chimney.
"Coincidently, the burglary alarm and request for aid were at the same location," police said. They checked it out, and discovered Schultz (who seems decidedly thinner than Santa Claus) stuck in the chimney. Officers said they discovered signs of forced entry as well as an open back door. They think Schultz tried to break in by climbing down, and that "accomplice(s)" set off the alarm when breaking into the house to free him.
The potential accomplices remain at large, while Schultz got freed from the chimney by firefighters. Then promptly arrested. LawNewz.com was unable to reach him for comment.
[Screengrab via Ridgecrest Police Department]
Have a tip we should know? [email protected]