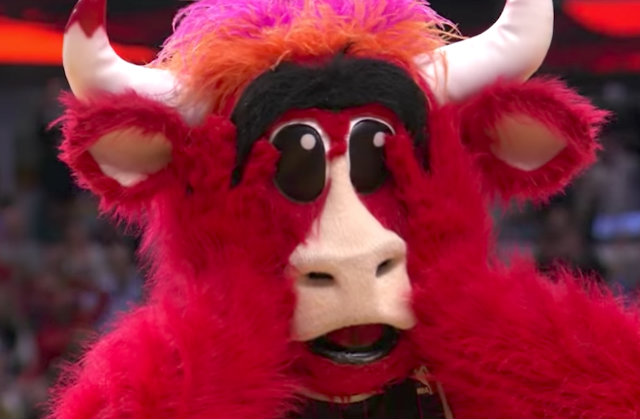 Chicago locals will probably remember Barry Anderson. For 12 years, he slipped on an oversized red costume to run, front-flip, and dance as NBA mascot Benny the Bull. Now, after leaving the job in 2016, he's gotten a memento he could probably do without. Rosa Garcia, a court-side server, sued him Monday in Cook County Circuit Court for hurting her shoulder when he allegedly used her as a crutch.
The lawsuit was filed exactly two years to the day after the alleged incident. "Benny" and Garcia both worked during a May 8, 2015 game in which the Chicago Bulls beat the Cleveland Cavaliers in the NBA conference semifinals.
The complaint said Anderson injured his ankle after "running out of control on the court." Another individual helped him off the court, and they incidentally walked past Garcia. The mascot allegedly then placed his hand on her left shoulder with "all his body weight" to lift himself up, and allegedly injured the court-side server's shoulder: Garcia claims to have felt a sharp pain, and heard a loud popping noise. This required medical assistance, the lawsuit says.
Court records obtained by LawNewz.com show that she is now suing Anderson, Chicago Bulls Limited Partnership, and the Chicago Professional Sports Limited Partnership. She seeks just over $50,000.
The Chicago Bulls have yet to response to comment, while we could not reach Anderson for comment.
[Screengrab via NBA]
Have a tip we should know? [email protected]