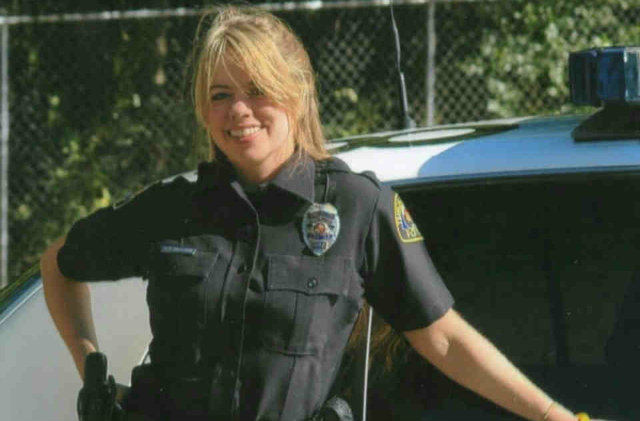 A former cop in Alabama doesn't have to worry about her lawsuit victory, at least for now. On Thursday, the 11th Circuit Court of Appeals upheld the verdict for ex-Tuscaloosa Police Officer Stephanie Hicks, who said she was chased off the force after she returned from maternity leave.
"The City maintains that Hicks was reassigned for her poor job performance," wrote Judge Charles R. Wilson in the opinion. "The jury found, and we agree, that there was sufficient evidence of discrimination."
Hicks sued the city of Tuscaloosa after she resigned. The ex-cop claimed her work-life turned sour after she returned from maternity leave in November 2012. She said she overheard her supervisor Lt. Teena Richardson call her a "b****." Richardson allegedly told Captain Wayne Robinson she'd look for a reason to write Hicks up. Another cop allegedly heard Richardson talk loudly about Hicks–"that stupid c*** thinks she gets 12 weeks [of maternity leave]. I know for a fact she only gets six." (Richardson had previously given Hicks a stellar evaluation.)
The plaintiff, an investigator on the narcotics task force, later ended up getting a demotion to the patrol division: less pay, loss of her work vehicle, and required to work weekends. And she had to wear a bulletproof vest. That became a problem. Hicks got her doctor to write a note to Chief Steve Anderson asking that she be reassigned to other duties because the bulletproof vests could lead to breast infections that could stop breastfeeding. The chief ended up giving her a choice, the court's ruling said: wear no vest whatsoever, or wear a "specially fitted" vest.
But to Hicks, not wearing a vest was no accommodation at all because it was so dangerous. Furthermore, the larger or "specially fitted" vests were also ineffective because they left gaping, dangerous holes. Hicks resigned that day.
She sued, arguing that the city violated federal law. A jury ended up awarding her $374,000–that was reduced by a magistrate judge to $161,319.92 plus costs and attorneys' fees.
The city argued yeah, she was demoted from narcotics, but it's because she wasn't doing her job. They said that after she returned from leave, they told her to work with "five to seven" informants, but she only spoke with one, she said. They also claim that after her demotion, she did not come to her front door when they came to take back her police vehicle. In their appeal, the city said that the jury were given bad instructions, and asked for a new trial. On Thursday, the court didn't agree.
"We find that a plain reading of the PDA covers discrimination against breastfeeding mothers," Wilson wrote. "This holding is consistent with the purpose of PDA [the federal Pregnancy Discrimination Act] and will help guarantee women the right to be free from discrimination in the workplace based on gender-specific physiological occurrences."
Since this is a federal appellate ruling, the city's only obvious response is to take this to the U.S. Supreme Court. Law Newz left a phone and email message with Tuscaloosa Senior Associate City Attorney James P. Woodson for comment, and will update when he responds.
[Image of Stephanie Hicks via ACLU]
Have a tip we should know? [email protected]