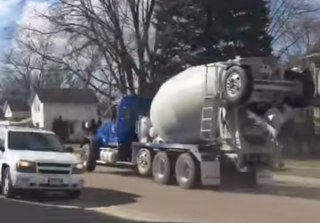 A Minnesota boy got mixed up with police on Sunday, after allegedly stealing a cement truck and going for a joyride, according to Fox9. A witness estimated the driver's age to be about 11, but officials did not disclose how old he is.
KAAL reported that a police helicopter spotted the truck, and cops caught up with the juvenile driver at a dead end street after chasing him for over an hour. Two police vehicles were damaged in the pursuit, but no one was injured.
With his future hardly set in stone, let's hope he doesn't become a…hardened criminal.

[h/t Fox News, image via screengrab]
Have a tip we should know? [email protected]