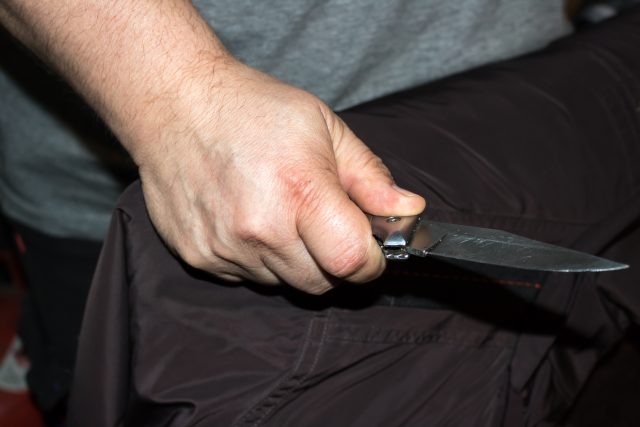 An argument about sports and politics became fatal at a bus stop in Oakley, California this Saturday, police say.
38-year old Phillip Wade from Antioch, California, allegedly stabbed Anthony Johnson of Pittsburg, California after an argument between the two escalated.  Officials say the dispute began on a bus and continued after the two got off.  According to police, Wade then pulled out a knife he had been carrying and stabbed Johnson numerous times before a witness in a vehicle pulled over his car.  The witness reportedly pulled a gun out of his car and instructed Wade to stop and get on the ground until authorities appeared on the scene.  Both the witness and Wade were taken into custody, although the witness was released shortly after.
Johnson later died of injuries in a hospital.  "He just talked a lot. He could talk to anybody and sometimes he would talk loud…He socialized a lot and he talks, but he wasn't a man to be violent like that," said Johnson's brother, James Johnson.  Anthony Johnson's niece, Lavonda Harts, spoke of his keen humor, telling The East Bay Times, "He was very quick with his words and everyone always has a joke that he's told them.  He left some funny jokes with anyone he ever met."
This was allegedly Wade's third stabbing incident in the past six years.  Wade stabbed 23 year-old man Justin Garza in March of 2011 the Brentwood BART park-and-ride lot.  The incident also resulted from an argument on a train that had carried into the parking lot.  Garza survived the incident, although Kann Cendejas, a homeless veteran an victim another stabbing incident, died of his injuries.  Wade stabbed the Cendejas at gas station in August of 2013.
Gabriel Desta, a friend of Wade's, told the Times Wade has been released.  Desta cited concerns over Wade's seizure medication, saying that Wade has allegedly heard people talk about him when they weren't.  "He's had many altercations over the years and it's gotten more severe," Desta said. "He was never like this before. He's been very vocal ever since I met him, but lately he was getting paranoid. Unusually paranoid." Desta recalled an incident where Wade wanted to "stab a group of black guys" in a diner, believing the group had been talking about him despite them being too far for him to hear.
Wade's Facebook page features a number of threatening posts directed at African-Americans and Muslims.  In one post, Wade posted a threat concerning former President Barack Obama accompanied by the emoji of a man wearing a turban along with the gun emoji.  Regarding allegations of prejudice, Desta described Wade as "more of a follower" that became a "major Trump supporter".
Oakley Police Chief Chris Thorsen stated that he does not believe the stabbing was racially motivated.  Police continue to investigate the incident.
Have a tip we should know? [email protected]