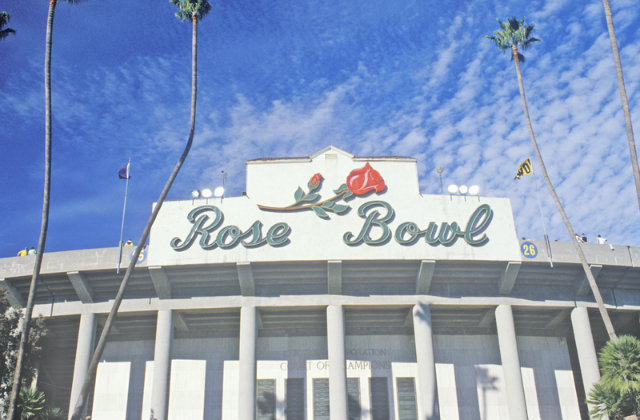 Attorney J. Patrick Connell loves the Georgia Bulldogs. It was pretty obvious in his motion for continuance on Friday. He wanted to reschedule hearing after his older brother got tickets December 20 to the upcoming Rose Bowl, so they could see the "Dawgs" play the Oklahoma Sooners. The problem was that the travel time back home would've overlapped with a January 2 court date. Yes, this a real motion, filed in a real court. He even roped in his colleague, attorney Dana Braun, who said that this is only the second time that the Bulldogs reached the Rose Bowl. That last time was 1943.
"As noted by Dana Braun, if it's another 45 years before Dawgs appear in the Rose Bowl again, none of us will be alive, making this potentially a once-in-a-lifetime opportunity!" Connell wrote in a footnote.
It was a cheeky motion, to be sure. Connell gushed about Bulldogs' history, players, and their stats. Hell, he even mentioned his link to Georgia Coach Kirby Smart (Connell went to Bainbridge High School, where his English teacher was Sharon Smart, Kirby's mother. Connell's father was the principal, and Kirby's father the head football coach.)
But yes, Chatham County Superior Court Chief Judge Michael L. Karpf granted the motion in his own snarky ruling on Wednesday.
"Through his extensive presentation of the facts and circumstances that have brought the University of Georgia to this auspicious point in the season," Karpf wrote, "as well as the history of his personal connections to Coach Kirby Smart, Plaintiff's counsel has made it clear to this Court that a victory for the Bulldogs hinges on nothing less than the very attendance of Plaintiff's counsel, himself, at the Rose Bowl in Pasasena California, on New Year's Day."
The judge also ribbed Braun, "who if memory serves, spent his undergraduate years at an institution noted more for hurricanes on Bourbon Street than touchdowns at the Rose Bowls."
Karpf's motion seemed to get a little serious. He said Connell addressed the motion to the state court, not the superior court. The judge claimed that that mistake showed Connell might be unready for the case, and is just seeking more time in a possible "subterfuge." Yes, Karpf granted the motion of continuance and rescheduled a hearing for next January 25, but he put some strings on that, so to speak. Connell was required to tell the lawyers for the other side about the continuance. The judge also wrote that if the Bulldogs lost the Rose Bowl, Connell must appear in court on January 3, and face a contempt of court charge after his presence at the game didn't help the team win. The possible punishment: up to $1,000 and/or 20 days in jail. But alternatives are possible.
"Indeed, inquires have already been made with Mr. Seiler concerning the need for assistance in mucking out Uga's crate following travel to and from the Dawgs' away games next season," Karpf wrote, referring to Georgia's mascot, an actual bulldog owned by attorney Frank Seiler.
Law&Crime reached out to Connell. We asked if these motions were meant to be taken in good fun. He answered that these were to be taken "in the greatest of fun." He said the judge was just matching the tone of his original motion.
Note: This article has been updated to reflect and detail Connell's motion for continuance.
[Image via Joseph Sohm and Shutterstock]
Have a tip we should know? [email protected]