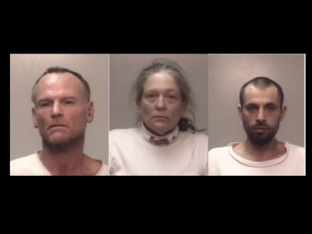 A group of burglars in Coweta County, GA seemingly thought they would be in for an easy night by reportedly targeting a home belonging to a 79-year-old woman, identified by police as Elaine Stiehl.
Stiehl told the Atlanta Journal Constitution newspaper that the she was about to go down for her nap when she heard an unfamiliar noise coming from the front of her home.
Coweta County Sheriff's Office spokesman Lt. Col. James Yarbrough then described how Stiehl quickly grabbed a pistol she keeps near her bed, loaded it and went into the hallway of her home where she confronted the alleged intruders who had apparently broken into her home.
According to Lt. Col. Yarborough, the three intruders scrabbled out of the home upon seeing the armed septuagenarian pointing a gun at them in the hallway.  Lt. Col. Yarborough later identified the alleged intruders as Thomas Allen Linder and John Michael O'Neal.
Police say both men exiting the Stiehl home and jumped into an SUV driven by Anne Renee Dearman.
It did not take long for pursuing officers to catch up with the trio and all three were arrested.  Two stolen guns from another state, a fur coat and power tools were recovered after the getaway vehicle was searched, according to police.
Linder was charged with burglary and possession of a weapon by a convicted felon.  O'Neil was charged with burglary and theft by receiving stolen property.  The alleged getaway driver, Dearman, also charged with burglary.
All three were booked into the Coweta County jail.
[image via police]
Have a tip we should know? [email protected]