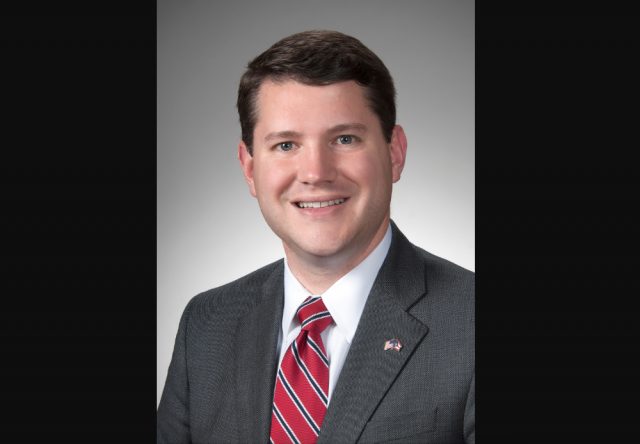 An Ohio state representative who bills himself as a conservative Christian in favor of "natural marriage" has resigned after apparently being caught having sex with a man in his office.
Republican representative Wes Goodman was caught with at least one person's pants down in his general vicinity–apparently months ago. According to Newsweek and The Columbus Dispatch, Goodman's partner in the office room tryst was also a man. No further information about the particulars is presently available.
Those tawdry bits of information made their way to Ohio State House Speaker, Republican Cliff Rosenberger on November 14. The speaker then discussed the incident with Goodman and helped him make the decision to resign, according to Cleveland.com.
Rosenberger said, in a statement issued yesterday, "It became clear that his resignation was the most appropriate course of action for him, his family, the constituents of the 87th House District and this institution."
Goodman has since attempted to scrub his online presence from top to bottom.
His campaign website is gone; his Twitter account and Instagram are private; he deleted his Facebook page; and his official Ohio House webpage was removed in fairly quick fashion.
The former representative's private hobby is likely a shock to his former constituents. Goodman's scrubbed campaign website once read:
Healthy, vibrant, thriving, values-driven families are the source of Ohio's proud history and the key to Ohio's future greatness. The ideals of a loving father and mother, a committed natural marriage, and a caring community are well worth pursuing and protecting.
In a statement announcing his resignation, Goodman shied away from any details whatsoever. He wrote:
We all bring our own struggles and our own trials into public life. That has been true for me, and I sincerely regret that my actions and choices have kept me from serving my constituents and our state in a way that reflects the best ideals of public service. For those whom I have let down, I'm sorry. As I move onto the next chapter of my life, I sincerely ask for privacy for myself, my family, and my friends.
[image via Ohio State House of Representatives file photo]
Follow Colin Kalmbacher on Twitter: @colinkalmbacher
Have a tip we should know? [email protected]