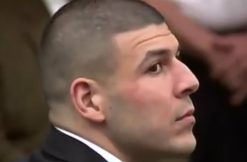 Alexander Bradley, who says Aaron Hernandez shot him in the face, is suing CNN because the network broadcast images from when he was in the hospital. The network allegedly aired the pictures on a 2015 documentary without his permission, according to the lawsuit obtained by the Hartford Courant. He now seeks damages in a Connecticut federal court.
According to the complaint, the images were taken shortly after Hernandez shot Bradley in the face. Charges were never filed after Bradley was reportedly uncooperative with the Palm Beach County Sheriff's Office, but he later sued his former friend. They settled out of court.
Hernandez, a former tight end for the New England Patriots, is serving a life sentence for the 2013 murder of Odin Lloyd.
[Screengrab via CNN]
Have a tip we should know? [email protected]