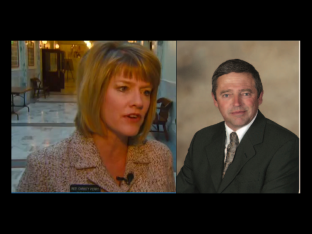 An alleged affair between two Idaho lawmakers has brought to light a statute that is still on the books in the state, making adultery a felony offense.
The Idaho Statesman reports state representative Christy Perry and state senator Jim Guthrie were allegedly caught in an extramarital affair earlier this summer.  Neither lawmaker has commented publicly on the specific allegations.  Although last month Perry did release a statement denying an ongoing affair, while admitting that two years ago she "ultimately made a terrible mistake for which I am truly sorry for." Perry and her husband have reportedly reconciled and withdrew a divorce petition in June. "Unfortunately, someone has decided to use the past situation to launch a disgustingly brutal attack," the statement said.
The story of the alleged affair broke after Guthrie's ex-wife spoke with a blogger who published details of the conversation online.  The newspaper cited court records to confirm Guthrie's divorce as finalized in July.
Whether the legislature will begin a formal ethics investigation will have to wait until the next session begins in 2017.  However, legal fallout from the alleged incident could occur much sooner, in theory.
Adultery is still a felony in Idaho, punishable by up to three years in the state penitentiary!
18-6601. ADULTERY. A married man who has sexual intercourse with a woman not his wife, an unmarried man who has sexual intercourse with a married woman, a married woman who has sexual intercourse with a man not her husband, and an unmarried woman who has sexual intercourse with a married man, shall be guilty of adultery, and shall be punished by a fine of not less than $100, or by imprisonment in the county jail for not less than three months, or by imprisonment in the state penitentiary for a period not exceeding three years, or in the county jail for a period not exceeding one year, or by fine not exceeding $1000.

History:
[18-6601, added 1972, ch. 336, sec. 1, p. 966.]
Falls County Prosecutor Grant Loebs told the newspaper that he has never filed an adultery charge in his 25-years as a prosecutor.  Loebs says the law, which was last amended in 1972, likely remains on the books because state lawmakers fear removing it would make it look like they condone adultery.
"It's there because the Idaho Legislature is making a statement that (adultery) should be discouraged," Loebs said. "If you try to remove it, you're asking should we make this type of behavior OK."
There are no state records on the number of adultery prosecutions, but Loebs said if it has been used recently, it was likely as some sort of plea bargain.
It appears as though he was correct, as the newspaper found the following example:
[I]n 2002, a 20-year-old Jerome man was sentenced to a year's probation for a felony adultery charge for having a relationship with a 17-year-old married teenager. Prosecutors offered the adultery charge as a plea deal, meaning the man didn't have to register as a sex offender because all other sex-related charges were dropped.
Adultery is also technically still illegal in 21 other states, although Idaho is one of only a handful that still classifies it as a felony. There is no indication that prosecutors would move forward with such a charge.
Have a tip we should know? [email protected]