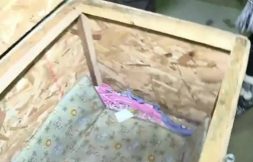 Sheriff's deputies in Pulaski County, Indiana say they found a three-year-old locked in a plywood box.
It started when officials got word of possible child abuse at a local home, according to a WLFI report. They got the search warrant, went to the place, and discovered the scene. Apparently, the girl would be kept in the box for lengthy periods of time. Three adults, including her father and stepmother, were charged with neglect of a dependent. Six others, ranging from age 18 to 38, were charged with failure to report child abuse.
"Nobody spoke up about a little girl in the box," Sheriff Jeff Richwine told the outlet. "Even as we were taking them out of the house, no one spoke up and said, 'Hey, there's a little girl over here in the box.'"
The girl and five juveniles are in custody with the Indiana Department of Child Services.
[Screengrab via WLFI]
Have a tip we should know? [email protected]