Indiana State Police and Noble County prosecutors on Tuesday announced a major development in the decades-long cold case investigation into the death of Laurel Jean Mitchell, who was just 17 years old the night she was allegedly murdered in 1975.
John Wayne Lehman and Fred Bandy, Jr., both 67-year-old residents of Indiana, have been identified as the suspects responsible for Mitchell's death, Capt. Kevin Smith announced during a press conference. Bandy is from Goshen and Lehman is from Auburn. Both are being held without bond at the Noble County Jail, authorities said.
Mitchell, a North Webster resident at the time of her death, left work at an Epworth Forest church camp snack bar at 10 p.m. on Aug. 6, 1975, and never made it home, leading her parents Richard and Wilma Mitchell to report her as a missing person at 4:16 a.m. the next morning. Hours later, a fisherman reportedly found Mitchell drowned in the Elkhart River.
Investigators believed she was a victim of foul play, citing autopsy results that said the victim battled for her life in a "violent struggle to survive," court documents said.
The case went cold for decades before it became solidified in the "last couple of months" as authorities waited for "science" to weigh in.
"This case is a culmination of a decades-long investigation … and science finally gave us the answers we needed," Capt. Smith said. "Playing a significant role in charges being filed was the Indiana State Police Laboratory Division. We simply could not have solved this case without them."
The probable cause affidavit filed in the case and dated Feb. 2 states that Mitchell decided to walk home on that fateful night rather than accept a ride home from a friend. She was "supposed to meet friends at the Adventureland amusement park" about a half-mile walk away, documents said.
One local witness, identified as Kathryn Flynn, said around 10 p.m. that night she heard a loud car turn around next door. She said she heard voices say "Let's get" or "Let's get her." Another local, Frank Overmeyer, told investigators he also heard a loud vehicle in the neighborhood, possibly an Oldsmobile Cutlass (Bandy had a 1971 Oldsmobile at the time).
It wasn't until 2013 that a woman came forward and said that Lehman — after a date and a party when she was 16 in 1975 — admitted to her that he and his friend Bandy committed a crime. Ranae Sexton's account of what Lehman allegedly admitted to her all those years ago was "consistent with" police findings in the case, the affidavit said.
In July 2014, Bill McDonald – identified as a high school sophomore at the time of the murder – told police that Fred Bandy also confessed to the crime while at a party. Documents alleged that Bandy also revealed Lehman's alleged involvement.
By 2019, Laurel Mitchell's clothes in evidence were "resubmitted" for DNA testing. After three suspects were eliminated as possibilities, documents said, attention shifted to Fred Bandy for a buccal swab. Authorities said Bandy voluntarily provided the DNA sample on Dec. 5, 2022, at his residence.
Fred Bandy Jr.'s buccal swab showed that he is "thirteen billion (13,000,000) times more likely to be the contributor of the DNA in Laurel J. Mitchell's clothing than any other unknown person," documents continued.
Investigators concluded that Lehman and Bandy — "with premeditated malice" — used the latter's Oldsmobile to bring Mitchell to the "Mallard Roost public access site" in Noble County," forcibly removed her from the vehicle, and "deliberately drowned" her.
Law&Crime searched the Indiana court database for additional information about the suspects and found records that show Fred Bandy, Jr. is a twice-convicted child molester deemed a "sexually violent predator" in Elkhart County.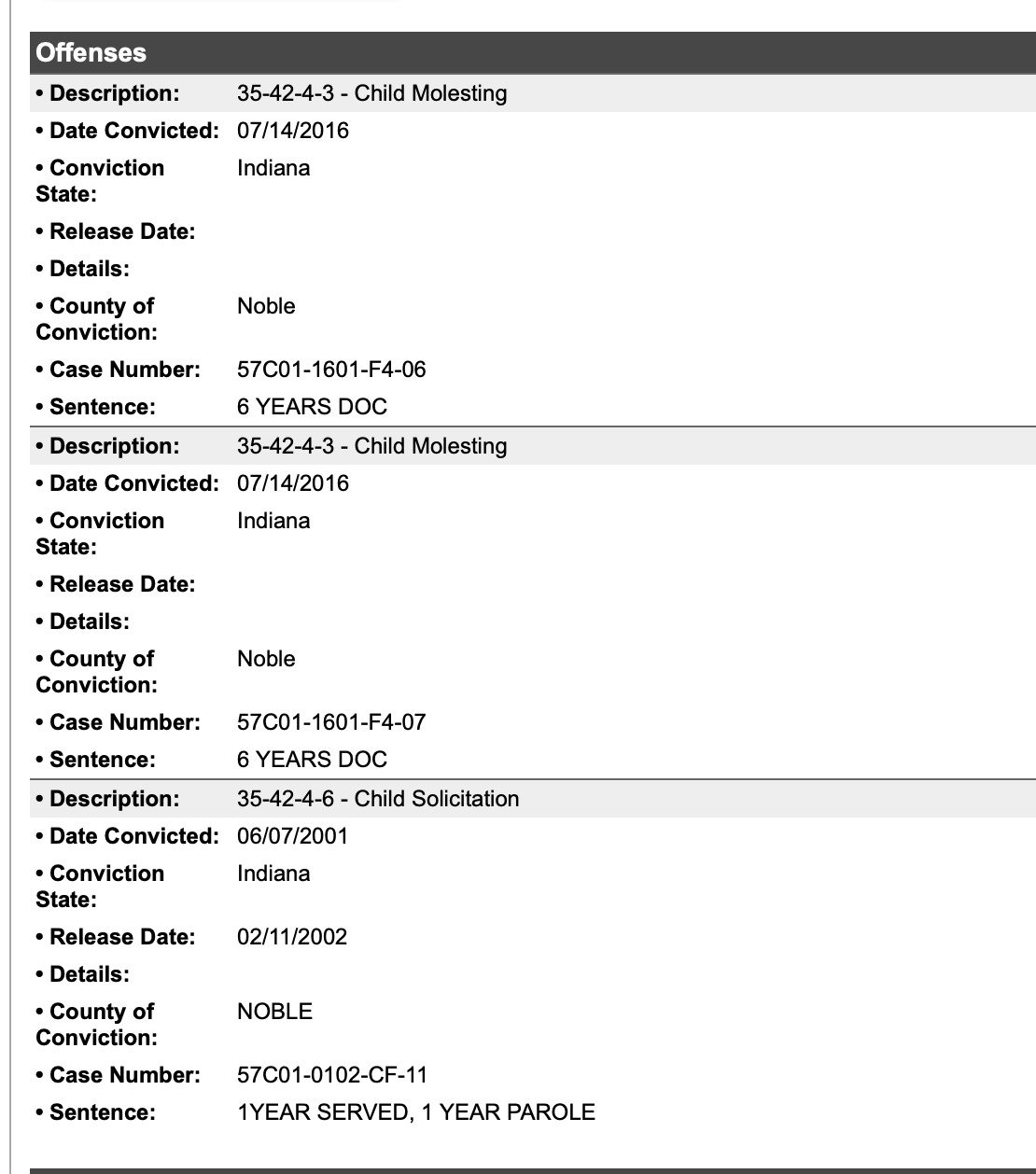 A search for John Wayne Lehman in Indiana's public court database only showed the pending murder case.
Have a tip we should know? [email protected]