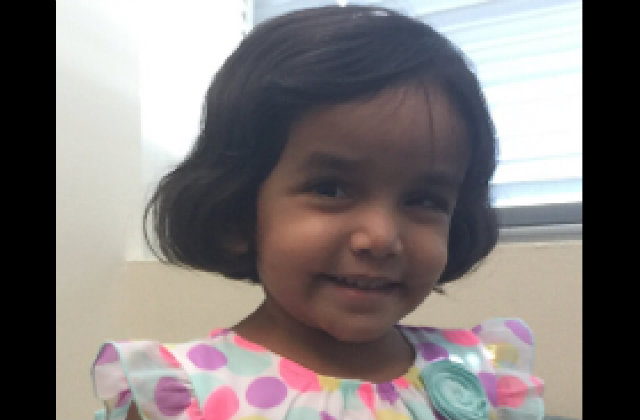 A 3-year-old girl is missing, and police blame it on the father. Police in Richardson, Texas said on Saturday that they arrested Wesley Mathews after his daughter Sherin Mathews went missing. The charge is abandoning or endangering a child. The search continues for young Sherin, who was last seen by her father wearing a pink top, black pajama bottoms and pink flip flops, police said. They described her as 36 inches tall, 22 pounds, and suffering from "from developmental issues and has limited verbal communication skills."
Wesley Mathews was released Sunday after posting $250,000 bond, The Dallas Morning News reports. The arrest affidavit said Mathews admitted to making Sherin stand outside, next to a large tree about 100 feet away from their home and across an alley. It was about 3 a.m. in the morning on Saturday. He allegedly admitted to cops that he knew coyotes had been sited in that alley. Mathews was punishing his daughter for not drinking her milk, cops said. Sherin had disappeared when Mathews checked in on her 15 minutes later, the affidavit said. But police said she was only reported missing hours later, after 8 a.m. of that day.
Law Newz could not reach Mathews for comment as of press time.
Child Protective Services spokeswoman Marissa Gonzales told the Morning News that Mathews' and his wife's 4-year-old daughter was taken into foster care. She said CPS had been involved with the family before, but didn't elaborate on how.
Richard police ask that anyone with information call 972-744-4800.
[Image via Richardson Police Department]
Have a tip we should know? [email protected]