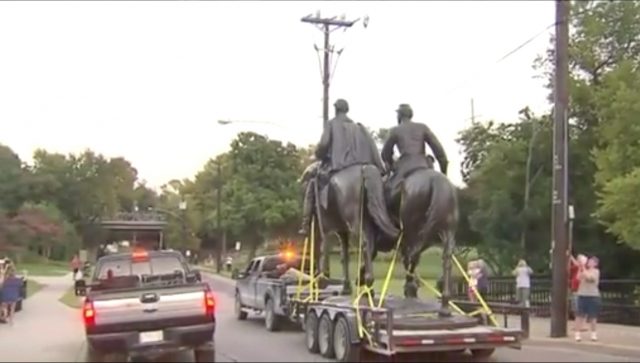 Members of the Dallas City Council have been subject to harassment and threats in the wake of a high-profile Confederate statue removal.
Municipal employees using a crane removed a large statue of Robert E. Lee from Oak Lawn Park on September 14. Conservative reaction to the statue's removal has been vitriolic, petulant, racist and has occasionally even threatened violence.
Council member Jennifer Staubach Gates, who has been targeted by the group Conservative Response Team, said, "It's complicated. It's complex. It's very emotional." Callers have referred to Gates using explicit language. Some have termed a disgrace, failure, and traitor. She's also received threats of physical harm which have resulted in police investigations.
One caller left a message with Gates expressing bewilderment that a white woman would vote to remove a statue of a losing Confederate general. According to her official city council call log, another upset conservative ranted as to how, "black people kill each other every day and blame white people for all their problems."
Some of the conservative response to the removal of the Lee statue has been anti-semitic.
Council member Lee Kleinman, who is the only Jewish council member, said he received a photograph of someone giving the Nazi salute after he voted to have the statue removed.
As to whether the loud and hateful response was bound to have any lasting political impact, Kleinman–who has voted Republican in the past–seemed to shrug off the potential political implications. He noted that 2019–the next slate of city council elections–was a long time away, and said: "It may mobilize that hard right-wing base. But typically, they just like something to be mad about. I just don't know if there's enough to make a difference."
Council member Philip Kingston led the push to have the Lee statue removed earlier this year. He was sanguine about the emotional tenor of the Confederate relic removal issue. While categorizing conservatives' responses as "childish" and nauseating, he said: "We're almost done with this process. And at this point, the people who are complaining are not from inside the city."
Kingston also noted that having Confederate statues placed in locations of prominence throughout the city sends the wrong message to forward-thinking investors and companies like Amazon–currently on the lookout for where to build their new headquarters. Speaking of the symbolic blight such statues are likely to engender, Kingston said, "It's analogous to showing up to a job interview with a face tattoo."
In response to the viciousness and racial animosity of the conservative reaction to Dallas' attempt at de-Confederatization, Mayor Pro Tem Dwaine Caraway struck a defiant tone, saying the pro-statue callers are, "sick people who refuse to accept every human and every American being accepted as equal."
Caraway also blasted outside conservative interest groups and activists, saying they "should express their opinions in their own city and let Dallas take care of Dallas."
The Dallas City Council voted to remove the six-ton statute by 13 votes in favor to one vote against after deadly white nationalist violence in Charlottesville, Virginia resulted in the death of 32-year-old Heather Heyer in August.
[image via screengrab]
Follow Colin Kalmbacher on Twitter: @colinkalmbacher
Have a tip we should know? [email protected]