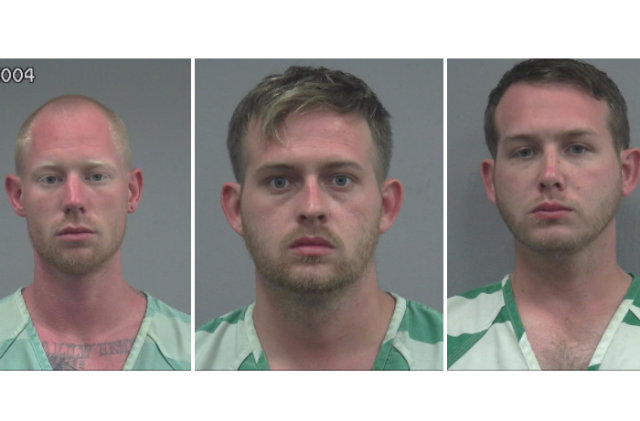 Gainesville police arrested three men Thursday after one of them allegedly tried to shoot and kill a protester. Cops said the crime happened after the speech of white supremacist Richard Spencer at the University of Florida. 28-year-old Tyler Tenbrink and two brothers, 28-year-old Colton Fears and 30-year-old William Fears, were all arrested, and sent to Alachua County Jail.
The arrest reports and press release said that a silver Jeep containing the three men pulled up to a bus stop where protesters were sitting. One of the suspects started yelling Heil Hitler and other chants. Things escalated. There was an argument, and one of the protesters used to a baton to strike the Jeep's rear window, police say. The protesters told police that the Jeep drove 10 feet, and stopped. Tenbrink allegedly stepped out with a handgun, while the Fears brothers egged him on to "shoot them" and "kill them." He opened fire. The bullet missed.
The Jeep left the scene, but one of the victims took note of the license plate, so investigators were able to find the vehicle pretty quickly. Tenbrink allegedly admitted opening fire. At least two of the defendants have links to "extremist groups," police said. The Fears each face a count of attempted homicide. Meanwhile, the alleged shooter faces a count of attempted homicide, and a count of possession of a firearm by a convicted felony. Jail records were not clear on whether they have an attorney. The brothers remain locked up on $1,000,000 bond and Tenbrink on $3,000,000.
Florida Gov. Rick Scott declared a state of emergency ahead of Spencer's speech, so plenty of law enforcement were on the ground when this alleged shooting would've happened.
[left to right: Tenbrink, Colton Fears, William Fears. Mugshots via Gainesville Police Department]
Have a tip we should know? [email protected]