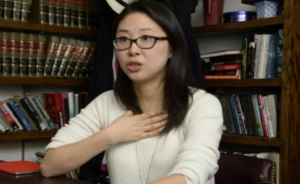 In a Federal lawsuit, Jeena Lee-Walker says the New York City Department of Education violated her first amendment rights when they fired her in May.
The teacher said her bosses pushed back when she tried to give lessons on the Central Park Five. "The Five" was the infamous conviction of 5 teenagers—four African-American, one Hispanic—for the 1989 rape of Trisha Meili, who had been jogging in Central Park where the attack happened. The kids said it was a wrongful conviction. And they were right. They were freed in 2002 when another guy, also a teenager at the time, confessed. They ended up reaching a $40 million settlement with the city in 2014.
It's a case that sits right in a cultural fissure: friction between law enforcement, and Black and Hispanic people. And it's an issue that's still relevant today, with cops on the hot seat, and the emergence of the Black Lives Matter movement.
Lee-Walker loved how her students responded to the Central Park Five case. "They really identified with the teenagers." But her supervisors apparently didn't like how she was covering it. They told her the lessons would create "riots." Her tense meetings with her bosses started the road to her getting fired.
Over the next 18th months until they dropped her, supervisors accused her being insubordinate, difficult to work with. Her performance reviews were poor.
Her lawsuit also says the firing broke the city's contract with the teacher's union since she was allegedly not given the required 60 days of notice.
The city's law department did not comment on the lawsuit.
[via The New York Daily News]
–
>> Follow Alberto Luperon on Twitter (@Alberto Luperon)
Have a tip we should know? [email protected]