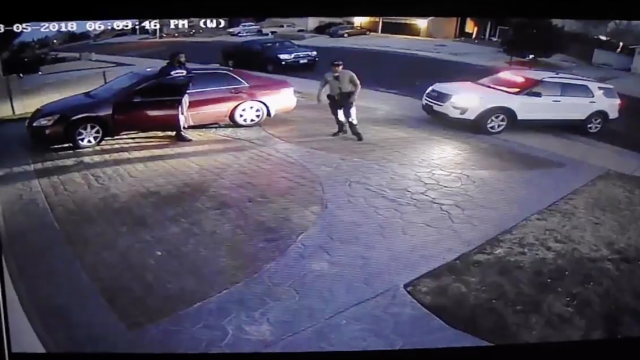 A 14-year-old had taken the game of cops and robbers too far after allegedly posing as a sheriff's deputy. The suspect, who was already on probation, drove his great-grandparent's Ford Explorer, outfitted with red and blue flashing lights, stopped at homes and conducted a traffic stop, cops said.
The first incident occurred when the teen pulled into the driveway of a Victorville, California home and spoke to the homeowner. According to a press release, he approached the occupants of the home, dressed in a San Bernardino sheriff's uniform with a holster and what appeared to be a firearm. He said that he was there to investigate a reported domestic disturbance but after being told that there was no disturbance, he drove away.
14-year-old juvenile arrested for impersonating a deputy sheriffhttps://t.co/eo3tfnquDQ pic.twitter.com/Xks98Po2eY

— Victorville PD (@VictorvillePD) March 7, 2018
The homeowner then called authorities and recounted the suspicious encounter which prompted an investigation. Inside the teen's home, police found "a large amount of" counterfeit money, simulation firearms, ballistic vests, a multitude of fake badges and even a hairpiece.
Investigators later discovered that the teen had also allegedly pulled over a woman driving a red car. He got her information and let her go with a warning, according to authorities. Later, he allegedly drove to another home which caused a boy around the age of 16 to come outside. Again, he allegedly pretended to be there for a domestic disturbance and left after being told that there was no problem.
After the car was identified as being owned by the teen's great-grandmother, police arrested the suspect. He was then booked into High Desert Juvenile Detention Center.
[Screengrab via Victorville PD Twitter]
Have a tip we should know? [email protected]