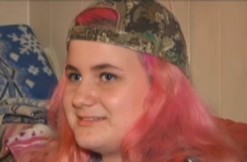 Pinching a boy's butt got Breana Evans, 12, arrested for misdemeanor battery Monday in Longwood, Florida.
"Lord Lord Lord, what has this world come to?" her father, Ray Evans, told CBS. "Kids can't even be a kid."
It happened two weeks ago between classes when Breana grabbed the schoolmate's booty. She said she didn't know him.
"It's just a joke," she told CBS.
The short term result was she got suspended by school officials, but the boy's mom wanted more. She reportedly called authorities last week, demanding the girl's arrest. And that's what happened.
A sheriff's deputy read Evans her Miranda rights, and took her to a juvenile detention center Monday.
"He [the deputy] said, 'I don't even want to do this,'" Ray said. "That's what the deputy said. 'But I have to do what I have to do.'"
Breana said she was sorry for pinching the boy's butt, but her father had no nice feelings for the mother.
"That's all I can say for you, lady, is you need some help, I think, too overprotective," he said.
A state attorney told CBS that Breana's record will be wiped clean, and the charge dismissed if she finishes a diversion program, completes community service, and doesn't fail her drug tests.
The mother didn't respond to contact by CBS.
[h/t CBS]
[screengrab via CBS, video via ABC]
–
Follow Alberto Luperon on Twitter (@Alberto Luperon)
Have a tip we should know? [email protected]