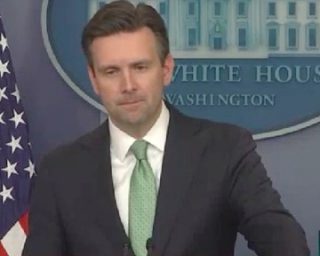 White House Press Secretary Josh Earnest fielded questions on Wednesday regarding the aftermath of Tuesday's Presidential election. One question addressed President-Elect Donald Trump's vow to prosecute Hillary Clinton for her private email server that she used while she was Secretary of State, and whether President Barack Obama will issue a pardon to Clinton while he is still in office.
Watch, courtesy of C-SPAN:
Earnest's response was a little odd, as he appeared to be choosing his words very carefully, and began by talking about how President Obama has given clemency to a number of federal criminals during his administration. However, Earnest quickly explained that the President did not discuss those plans with Earnest beforehand, and so too, Earnest does not know what Obama's plans are regarding Clinton.
Addressing Trump's threats regarding Clinton, Earnest expressed hope that once he takes office, the new President will move forward and not use his power to exact revenge on his former political opponent. Earnest said that the country's leadership has a history of not doing this sort of thing and said that Trump's words after the election gave hope that he will continue this tradition. "That tone is consistent with the long standing traditions of our democracy," Earnest said of Trump's speech. "We go to great lengths to insulate our criminal justice system from partisan politics."
Have a tip we should know? [email protected]