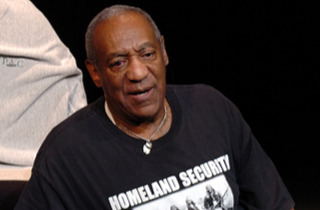 It fell under the radar due to the presidential election, but there was fairly big news in Bill Cosby's various legal entanglements on Tuesday. MassLive is reporting that U.S. District Court Judge Mark Mastroianni ruled in Cosby's favor on the issue of whether AIG Property and Casualty, his liability insurer, must cover the costs of his defense in three defamation suits from six accusers, as well as any potential damage awards if he loses the cases. He had already won a similar ruling in model Janice Dickinson's lawsuit.
To be clear, this does not cover the defense of the criminal charges against Cosby, as insurance doesn't pay for that. The civil cases are covered by his homeowner's and excess liability (or "umbrella") insurance policies.
Francis D. Dibble Jr., told MassLive that "We are delighted with this excellent and correct decision by Judge Mastroianni." AIG's lawyer had argued that because the defamation cases stemmed from Cosby refuting the sexual assault allegations against him, the cases shouldn't be covered since "sexual misconduct" is not covered. Dibble countered by saying that the origin of the defamation allegations didn't matter, just that it was defamation, which is covered.
In his ruling, Mastroianni cited 1996's Rischitelli v. Safety Insurance Company as precedent. In that case, the plaintiff was attempting to get an auto insurance company to cover injuries from a "physical attack" that stemmed from a road rage incident. The judge ruled that "the battery and the car accident were separate and distinct events; the car accident merely preceded, and set the context for, the battery."
[Photo: Shutterstock]
This is an opinion piece. The views expressed in this article are those of just the author.