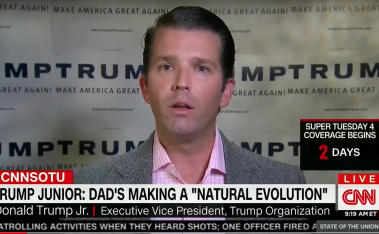 Donald Trump Jr. appeared on CNN on Sunday morning with Jake Tapper where the two discussed the ongoing controversy surrounding the GOP convention delegate selection process.  In the interview, Trump Jr. took a direct shot at Ted Cruz, telling Tapper that Cruz cannot obtain enough support to win the nomination without bribing convention delegates.
"Ted Cruz has no chance of winning [the nomination] without bribing the delegates. That's his game at this point, okay.  He is mathematically eliminated," Trump Jr. told Tapper on State of the Union.
WATCH:
When Tapper asked if the Trump campaign planned to step up efforts to win over unbound delegates, Trump Jr. said the campaign would do what it needed to do to win. However, he stressed that they wished that was not necessary.
"I think we're going to do what we need to do to win, to a point, but I think we want to win without having to do that," Trump Jr. said.
Trump Jr. pointed to Pennsylvania as an example to highlight the campaign's frustration with what it calls an unfair delegate selection process.  In Pennsylvania, a candidate can win the statewide vote in a landslide but is only guaranteed 17 of the state's 71 delegates.  Pennsylvania's remaining 54 congressional district delegates are unbound and free to vote for any candidate of their choice at the Republican National Convention.
Trump Jr. also said the current system can circumvent the will of the voters to benefit party insiders and elites.  He even went so far to say that it appears as though some in the RNC may be willing to allow Hillary Clinton to win in November just to ensure the system stays the same.
"I think at this point the Republican establishment would much rather just hand the things over to Hillary, hand the reins over to her, let her run it," Trump, Jr. said.
When Tapper pressed him on this point, Trump Jr. did not back down.
"They want to try to push someone else who has zero chance of winning anywhere else, it doesn't make any sense to me. I have to certainly question their motives," Trump Jr. added.
[image via screengrab]
Have a tip we should know? [email protected]