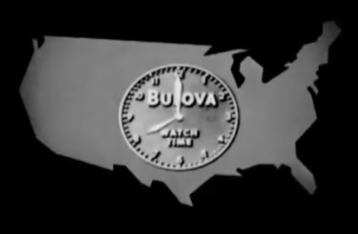 The first FCC licensed television commercial advertisement aired 75-years-ago today — July 1, 1941 — during a broadcast the Philadelphia Phillies vs. Brooklyn Dodgers on WBNT in New York.
Fortune magazine reports the watch company Bulova paid $9 for the television spot — about $1 per second.  By way of comparison, Super Bowl 50 television ads went for $5 million for a 30-second spot — $166,667 per second.  A simple black and white still frame image for Bulova is onscreen for nine-seconds and includes a voiceover that states,"America runs on Bulova time."
WATCH:
According to the report, several "experimental" television advertisements had aired over the previous 13-years from when the first television station went on air in 1928.  However, the Federal Communications Commission (FEC) did not officially provide commercial television licenses until May 1941 when it issued them to ten stations around the country.  Thus, Bulova has the distinction of airing the first "legal" television advertisement in history.
Have a tip we should know? [email protected]