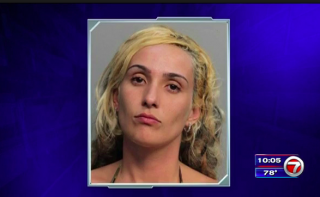 A Florida woman, who works as an entertainer, allegedly pulled down her dress to show her cleavage, and tried to hand over a wad of cash after she was stopped by a cop. The woman, Margaret Garcia, told Local 10 News that the cop is lying about what happened. The thing is, much of the interaction was caught on body camera video. Miami-Dade police pulled her over for speeding. The officer reports that when he approached her vehicle, she pulled "the top of her dress down exposing her bra."
Watch below:

When the police officer asked Garcia for her license and registration, she instead pulled out a handful of cash.
"Ma'am that's money," he said.
"I know," the woman replied.
"Why are you giving me money?" the officer replied.
"How much do I owe you?" she said.
"You don't owe me any money. I asked for your license and registration," the cop replied.
While searching the car, a police officer also found a bag of weed to which the woman replied, "Come on that's personal use."
"I smoke weed, what?" she said. Radio show host Andy Slater first obtained a copy of the body-cam footage and posted it online.
SLATER SCOOP: Stripper tries to bribe Miami-Dade cop — Exclusive body-cam footage. https://t.co/oJvBYaEQct pic.twitter.com/Tu1h4SnkqM

— Andy Slater (@AndySlater) July 1, 2016
Police arrested the woman for speeding, marijuana possession and now bribery.
Have a tip we should know? [email protected]
Rachel Stockman - President / On Air Host