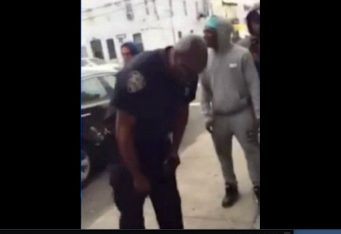 The New York Police Department is reportedly investigating allegations that one of its officers participated in a neighborhood dice game in order to determine the fate of a suspect's freedom.
The suspect, Kenny Shenery, is now speaking out, telling NBC News New York that he was playing dice with some friends when NYPD cop David Terrell and his partner approached and began frisking the group.
Shenery said he was placed in the back of a patrol car and claims Terrell then turned to the rest of the group and said, "Let's gamble. If I win, I take one of you guys in, also with him, and if I lose, I let him go."
The news outlet also obtained video of part of the alleged incident.
WATCH:
A man can be heard in the video telling the cop, "If you ace out right now, you gotta let him go." The cop then appears to grab the dice and roll them on the sidewalk. The witness who took the cellphone video of the alleged incident told the news outlet the cop lost, but took Shenery to jail anyway where he was given a citation for a noise violation.  Shenery strongly denies any wrongdoing on that day.
The Bronx District Attorney told reporters they are aware of allegations against Terrell and an investigation is underway.  However, the news station's investigative team claims they have information that Terrell (who is now a detective) has been stripped of badge and his gun and taken off active duty patrol. As for Terrell himself, it does not appear as though he has spoken publicly about the alleged incident.
[image via screengrab]
Have a tip we should know? [email protected]