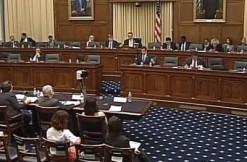 Apple and FBI have started a legal war over a mass shooter's encrypted iPhone, and it continues Tuesday in Washington. The House Judiciary Committee will hear testimony for and against the feds' demand to unlock the phone. It is scheduled to start at 1 a.m. EST.
Investigators want to access San Bernardino shooter Syed Farook's password-protected phone by having the tech company make a hackable version of the iPhone operating system. Apple CEO Tim Cook says the court order asking for this is wrong, and that following it would endanger security for innocent people.
Four people are set to testify. Apple's general counsel Bruce Sewell, and Professor Susan Landau are expected to defend the company's decision to say no to the government. Then there's FBI director James Comey. His position should be obvious.
"The relief we seek is limited and its value increasingly obsolete because the technology continues to evolve," Comey wrote in a statement released February 21. .
He's got the support of New York district attorney Cyrus Vance, who says Apple is acting big-headed.
"Technology companies should not be able to dictate who can access key evidence in criminal investigations," he stated in his written testimony. Apple's recent encryption practices are allegedly already causing harm. "No device or company, no matter how popular, should be able to exempt itself from court obligations unilaterally. And they should not be able to write their own laws."
But Landau is expected to say that maybe the FBI should just do a better job. In her written testimony, she stated that encryption and similar protections shield technology and absolutely should not be undermined.
"Instead, the FBI must learn to investigate smarter," she wrote.
This fight has garnered outside support for both sides. An unspecified number of survivors of the December San Bernardino shootings are expected to file an amicus brief for the feds.
Meanwhile, protesters are outraged at the FBI, and the House Judiciary itself might help Apple too. They're considering filing an amicus brief on the company's behalf, according to a report by Reuters. This still-hypothetical brief would insist that it's congress' job, not the courts, to handle this dispute through lawmaking. Separation of powers. This might prove helpful to Apple's motion, filed Thursday, to squash the feds' demand.
In a very similar case, a New York federal judge ruled Monday that the FBI couldn't force Apple to provide data from another locked iPhone.
Farook and his wife Tashfeen Malik allegedly killed 14 and injured 22 people in a government building on December 2. They later died in a shootout with police, and the ensuing investigation has been a hot mess. Hence, today's hearing.
WATCH LIVE:
[h/t ZDNet]
[image via a House Judiciary Committee screengrab]
–
Follow Alberto Luperon on Twitter (@Alberto Luperon)
Have a tip we should know? [email protected]