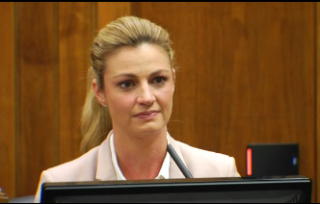 Erin Andrews continued her testimony on Tuesday, in the trial against Michael Barrett and the Nashville hotel that she says enabled him to record video of her changing in her room.
Initial questions focused on the support Andrews has received from the sports community since the incident occurred. She said she never thought athletes or coaches cared who she was, and was moved by comments from people such as NCAA basketball coach John Calipari of Kentucky, who told her on Monday that he is proud of her.
Andrews then spoke about the counseling and treatment she's received since the video went on the internet. Andrews described how when she would talk sports, cover games, or go on Dancing With the Stars, she would be fine, but once those things were over, she would go back to being upset.
Andrews said what hurts her the most is when high school or college girls say, "I want to be Erin Andrews, except for the Marriott stalker thing." She dreads having to talk to her future children about this, when their friends inevitably say something at school. She said she will continue to struggle with this because the video will always be on the internet and is not going away.
Stay with LawNewz.com for continuing updates on this case.
Have a tip we should know? [email protected]