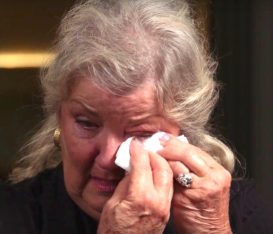 Juanita Broaddrick, the woman who accused Bill Clinton of raping her in an Arkansas hotel room back in 1978, tearfully recounted the details of the alleged incident in a powerful new interview published on Sunday.
Broaddrick became very emotional as she sat down with Breitbart.com reporter Aaron Klein over the weekend in Washington, D.C., to discuss the incident, providing gut wrenching details about what she says happened to her nearly 40 years ago.  Broaddrick also told Klein she is still very much afraid of Bill Clinton and fears what may happen with Hillary in the White House.
WATCH:
"And then as he points over my shoulder, he grabs me and turns me to him. And that was a shock. And I tried to push him away. And I only weighed about 120 pounds at that time. He was a very large man. And I kept telling him, 'No. I don't want this at all.'" Broaddrick said, describing how she says Clinton initially came on to her while they were alone in the hotel room.
According to her account, Clinton refused to take no for an answer and quickly became more forceful.
"And he grabbed me again, very forcefully. And started biting on my top lip. And this was extremely painful. I thought he was going to bite my lip off. And that's when he pushed me back onto the bed, "Broaddrick said.
Broaddrick then breaks down when asked to recount what happened next.  She reaches for a tissue as she asks to take a break in the interview.  As she regains her composure, Broaddrick tells Klein that she is still afraid of Bill Clinton, "[e]specially if she becomes president. And I know it's looking that way. So it's frightening, Aaron. It's frightening."
The interview then continued and Broaddrick provided additional details about the alleged rape.
"He tore the waist of my skirt. And then he ripped my pantyhose. And he raped me. It was very vicious. I was just pinned down… I did not know what to do. I was so frightened. I was only 35 at the time. And it was horrible. I just wanted it to be over with. So he would go away," she said.
But Broaddrick says, unfortunately, it was not over and claims Clinton held her down and raped her again before gathering himself and leaving her alone in the room.
This is not the first time Broaddrick has come forward to speak about her allegations against Clinton.  Back in 1999 she was interviewed by NBC News about the rape allegations.  At the time of that interview, Clinton's attorney, David Kendall, completely denied the allegations.
[image via screengrab]
Have a tip we should know? [email protected]