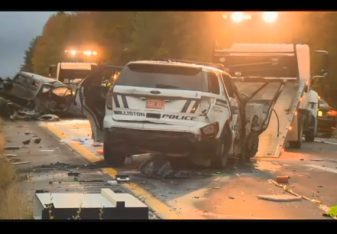 Police in Vermont say five teenagers were killed in a fiery car crash after the vehicle they were riding in was hit by an SUV traveling the wrong way on Interstate 89.  After the initial deadly accident, police say a man then stole a police SUV and struck seven additional vehicles at the crash scene, injuring another five people.
WCAX Channel 3 reports police received calls about a Toyota SUV driving the wrong way on Interstate 89 around midnight.  Before police could stop the SUV it struck another vehicle that quickly burst into flames, killing all five teenagers inside.  However, the horrible incident did not stop there.  Police say 36-year-old Steven Bourgoin then stole a police SUV belonging to the first officer to arrive on scene. As the stolen police SUV approached a roadblock, police say the Bourgoin turned around and started driving on the wrong side of the road, back towards the initial crash scene.
WATCH:
Witness Paul Swann described the chaotic scene, including how Bourgoin crashed the police SUV into at least seven vehicles that had subsequently stopped at the original crash scene and injured another five people.
"There was debris everywhere they were flames and they're about to people screaming I heard people screaming what the hell is going on and I just hear people yelling and screaming over by area where the impact was," Swann said to Channel 3, describing the initial crash scene.
After the man took off in the stolen police SUV, Swann described his fear and surprise at seeing the stolen vehicle speeding back towards them.
"The only thing I could do was try and yell and just gasp as this thing came flying in," Swann said. "I couldn't even believe what I was seeing when the cruiser came back in in that high rate of speed and just no brakes no nothing. There just maybe a quick screech of tires and then it piled into everything."
Bourgoin was hospitalized without life threatening injuries. Police have reportedly not confirmed if he was the driver that caused the first deadly accident.
[image via screengrab]
Have a tip we should know? [email protected]