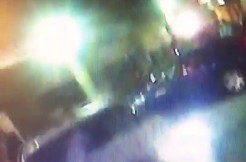 Body cam video was just released of a cop shooting an alleged car thief. Police in Orlando, FL were making a nighttime traffic stop on a white charger with three people inside, according to a press release covering the Jan. 16 incident. But when the officers stepped out of their vehicle, the charger reversed, trying to get away.
The police kept going at it, however. Body cam footage released Monday shows Officer Jonathan Mills thwacking the driver side window with his baton. The charger moved in reverse again, and Officer Mills opened fire:
Body cam video of officer who discharged firearm after he was nearly hit by driver of this stolen car. pic.twitter.com/q0SHEmVKxb

— Orlando Police (@OrlandoPolice) January 25, 2016
The driver, 17-year-old Trevon A. Lamons, was hit, and crashed right into a (thankfully) empty house. He was soon arrested and sent to the hospital. He is in stable condition, but his two passengers are still out there. No bonus points for guessing that the Orlando Police Department probably want to speak to them.
Mills was not injured. But why would Lamons try to bolt when police pulled him over? Maybe because the charger was reportedly stolen.
Lamons already has 3 felony arrests under his belt, including vehicle theft and burglary. He's now being charged with aggravated assault on a law enforcement officer with a motor vehicle; fleeing and eluding a law enforcement officer; and grand theft of a motor vehicle. As a minor, he was moved to the Juvenile Assessment Center.
The Florida Department of Law Enforcement is looking into this since an officer opened fire. Mills is on paid administrative leave, but that's part of standard procedure, and not any reported wrongdoing.
–
>> Follow Alberto Luperon on Twitter (@Alberto Luperon)
Have a tip we should know? [email protected]