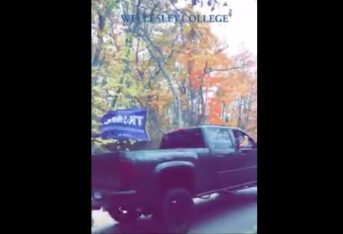 Two Babson College students are reportedly in trouble after their idea of Donald Trump victory celebration was too much for some to handle.
According to a Boston Globe report, the two fraternity brothers placed a large Trump flag in the back of a pickup truck and drove through the streets of nearby Wellesley College, a women's liberal arts college that also happens to be Hillary Clinton's alma mater.
A brief video of the alleged incident was posted to Facebook on Thursday.
The incident was upsetting to some on the Wellesley campus and reports indicate police were called to put an end to the celebration. Some reports have also popped up online that suggest the men were in fact stopped by police officers and told to leave the campus immediately, or face trespassing charges.
When word of the incident spread back to officials at Babson College. The reaction was swift and harsh.
In the course of their celebration, the students apparently drove past Wellesley's Harambee House, which reportedly serves as campus center for minority students. This has led some Babson College officials to conclude the students behavior was possibly racially motivated.
Lawrence P. Ward, vice president of student affairs at Babson, issued a statement that said the incident was under investigation because the "students' behavior was experienced by many students of color and perceived by many others . . . as racially offensive and gender demeaning."
The two students were also immediately kicked out of their fraternity by the Sigma Phi Epsilon national office, which issued a statement calling the conduct "abusive, misogynistic behavior [that] has no place in our society."
Wellesley's Honor Code Council, however, is calling for stronger even punishment and issued a letter asking for the students to be expelled from the college, immediately.
In response to that letter, Babson College officials sent their own letter to students at Wellesley on Friday morning that promised "appropriate actions" are being taken to address the matter.
[image via screengrab]
Have a tip we should know? [email protected]