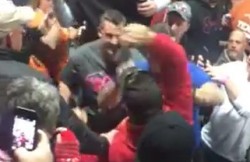 In the most NASCAR thing to have ever happened, a driver got into a fight with an off-duty cop during a racing event.
Video surfaced of driver Tony Stewart storming up the stands to face off with an off-duty cop who was heckling him. Yes, "cop," as in "police officer." Cpl. Kyle Hess was identified by Deputy Justin Green as the heckler.
It happened at the Lucas Oil Chili Bowl Nationals in Tulsa, Oklahoma Friday, where Stewart wasn't racing, but supervising track maintenance. Apparently, Hess had been talking smack all night whenever Stewart passed by, and after a while, the NASCAR driver was reportedly fed up:
Tony Stewart with the fan that flipped home off! pic.twitter.com/kBpbpbMkGl

— Kyle Slader (@KyleSlader19) January 16, 2016
Five-O didn't care. "I don't like you, and I never have," Hess reportedly said. Cop and driver grappled a bit while a security guard tried to step between them.
Hess shoved Stewart—and then stumbled backward.
"I met with the fan [Hess] outside of the building," said Tulsa Deputy Police Chief Dennis Larson. "He was under the influence of alcohol, and we suggested to him that he call it a night at the Chili Bowl and that he is welcome to come back…"
The Sheriff's Office is investigating if Hess acted inappropriately, and they haven't decided on any punishments.
"We're all held to a higher standard, even off duty," Deputy Green said.
Stewart went back to work after the shoving match, and reportedly had no more gripes. According to Larson, "He has no ill will toward the fan and wanted nothing done."
No injuries were reported.
[h/t Tulsa World, image via screengrab]
–
>> Follow Alberto Luperon on Twitter (@Alberto Luperon)
Have a tip we should know? [email protected]