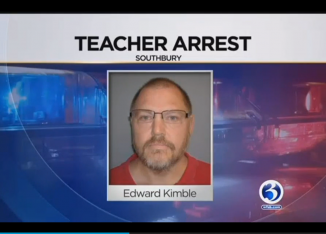 A Connecticut high school teacher was arrested and charged with second-degree reckless endangerment on Monday. The teacher, Edward Kimble, 52, is accused of letting the air out of a tire on a student's vehicle because the car was parked in his designated spot.
WATCH:
Newstimes.com reports that police say the student had permission from school security officers to park his vehicle in the teacher's spot due to a lack of available spaces elsewhere in the parking lot.  Police reportedly issued a warrant for Kimble's arrest back on June 1 after receiving information about the incident and tips identifying the teacher as the alleged culprit.
Kimble apparently only became aware of the outstanding warrant on Monday and turned himself to authorities.  He was released after posting $500 bond and his arraignment is scheduled for August 10 at the Connecticut Superior Court in Waterbury.
Have a tip we should know? [email protected]