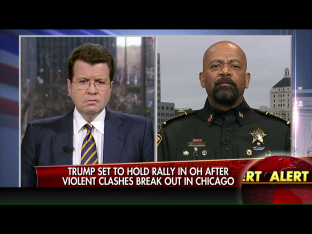 Sheriff David Clarke appeared on Fox News Saturday morning with Neil Cavuto to discuss the chaotic scene outside the canceled Donald Trump rally in Chicago last night.  Not surprisingly, the sheriff offered some strong opinions about what happened last night and who is to blame.
The interview started with Clark telling Cavuto that people should not back down to the "bullies and goons" who attempt to disrupt these rallies, but then quickly turned to the discussion of whether Trump stokes the violence at his rallies.
The sheriff refused to blame Trump, instead saying the question should be about the roles of Clinton, Sanders and even Obama in creating divisions within our society for political gain.
"Look at some of the rhetoric and language used by Mrs. Bill Clinton and Bernie Sanders at their rallies and their debates.  How they criticize the police, they attack the police, they stoke up racial animosity.  The president of the United States is the one that created this division… stoking up racial discord, class warfare, gender warfare for the last eight years.  For people to blame this on Donald Trump is way out of bounds."
Sheriff Clarke went on to say that that the only reason the focus is on Trump is because he is a threat to the political atmosphere that allows mobs of people to shut down political events of people they do not agree with under the guise of a protest.  Clarke told Cavuto that this is not necessarily unique to Trump and that he believes the same thing would also happen to Cruz or Rubio if they happened to be leading in the polls now.  Overall, he was adamant that the type of behavior people saw last night cannot be rewarded or viewed as acceptable.
"This has to be crushed … I don't care whether these goons don't like what the candidates are saying.   I don't believe we should have to shut down just to keep the peace…. The goons need to back off and they need to be silenced.  Not the people on the side of law and order," Clarke concluded.
WATCH the full interview via Fox News:
Please enable Javascript to watch this video
[image via screenshot]
Have a tip we should know? [email protected]