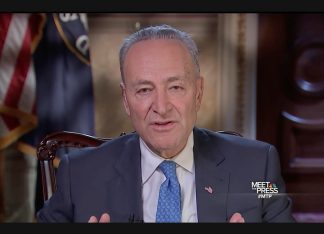 Senate Minority Leader, Chuck Schumer, has reportedly expressed a willingness to find common ground with President-elect Donald Trump following the inauguration.  By the same token, Trump recently expressed hope that his administration will be able to reach across the aisle and work with Democrats in the Senate now that Schumer is taking over for a a retiring Harry Reid.
I have always had a good relationship with Chuck Schumer. He is far smarter than Harry R and has the ability to get things done. Good news!

— Donald J. Trump (@realDonaldTrump) November 20, 2016
Despite all of the mutual praise and hopefulness to get along, it seems there may already be one area where Sen. Schumer is not willing to budge — and it is a pretty major issue.
During an appearance Sunday on Meet the Press, Sen. Schumer fired a warning shot at Trump about the type of Justice he should appoint to the Supreme Court.  Sen. Schumer told host Chuck Todd that he "hopes President Trump picks a mainstream candidate" or he may face a filibuster from Senate Democrats.
WATCH:
Todd tried to push Sen. Schumer for details about whether someone like Ted Cruz would be considered to be "mainstream" but Schumer declined to give his opinion on specific candidates.  Instead, the New York Senator reiterated his position that Trump might have a hard time getting someone through who Democrats do not consider "mainstream."
"If he doesn't nominate a mainstream candidate, we're going to go at him with everything we've got … Because this is so, so important," Schumer said.
Under current Senate rules, 60 Senators most vote in favor of ending debate before a final vote can be held to approve Supreme Court nominees.  Once a final vote is approved, then the rules only require a simple majority of Senators to vote in favor of confirmation.  Senate Republicans are expected to only hold a 52-48 majority in the Senate in 2017, therefore they would need at least eight Democratic Senators to cross the aisle and approve holding the final vote on Trump's Supreme Court pick.
If Democrats do filibuster a Trump nominee, Senate Majority Leader Mitch McConnell could possibly invoke what is called the "nuclear option" that would essentially do away with the initial 60 vote requirement. Though, Republicans have been reluctant to "go nuclear" in the past when the issue came up during the George W. Bush administration.
However, that was before 2013 when then-Senate Majority Leader Harry Reid invoked a modified nuclear option removing the filibuster for all presidential nominees, except Supreme Court justices.  Then, last month when he thought Hillary Clinton would win the election and Democrats would take back the Senate, Sen. Reid gave an interview saying he believed Senate Democrats would use the nuclear option if Republicans tried to block a Clinton nominee to the Supreme Court.
Now that the tables have turned, it is possible that Sen. McConnell might follow the path suggested by Sen. Reid and do away with the filibuster for Supreme Court nominees.  Sen. McConnell will likely receive a great deal of pressure from some of his Republican colleagues in the Senate to so, that is for sure.
It remains to be seen how Sen. McConnell will proceed and a lot of this will all depend upon if Sen. Schumer makes good on his threat to block what he views as an unacceptable Supreme Court nominee.
[image via screengrab]
Have a tip we should know? [email protected]