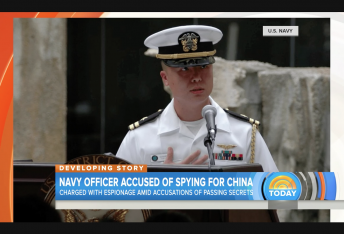 A U.S. naval officer who served as a signals intelligence specialist on the Lockheed EP-3E Aries II reconnaissance aircraft now faces multiple charges, including espionage, related to allegations that he passed secrets to a foreign government — reportedly thought to be China.
According to the United States Naval Institute News (USNI News) service, sources have identified the accused officer as Lt. Cmdr. Edward C. Lin, who was most recently assigned to the Patrol and Reconnaissance Group in Norfolk, VA.
In 2008, Lin spoke at a naturalization ceremony while stationed in Hawaii, where he shared his story about his family leaving Taiwan to move to America when he was 14 years old.  Sources also told USNI News that Lin speaks fluent Mandarin and had previously been assigned as a department head for the Special Projects Patrol Squadron Two 'Wizards' (VPU-2), a unit that flew the EP3-E Aries II signals intelligence aircraft.  Lin served as the central coordinator in charge of managing the collection of electronic signals for the aircraft.  According the USNI report, this assignment almost certainly provided Lin with extensive knowledge about the United States' electronic signals intercept capabilities — one of the military's most closely guarded secrets.
WATCH:
Heavily redacted charging documents for his Article 32 hearing allege that Lin (although his name is redacted in the documents) committed two counts of espionage, three counts of attempted espionage, and five counts of communicating defense information in violation of Title 18 U.S.C. § 793(d).  Lin is also charged with three counts of making a false official statement, four counts of failure to obey a lawful general order, in addition to one count of patronizing a prostitute and one count of adultery, in violation of military law.
The charging documents provide few details about the alleged incidents, but they do indicate Lin allegedly passed or attempted to pass information classified at the "SECRET" level, and that Lin lied about his foreign travel on military leave request forms.
Lin has been held in pre-trial confinement at the Naval Consolidated Brig Chesapeake, VA for the past eight-months, according to USNI News sources.
The last active duty member of the U.S. Navy to be charged with espionage was naval warrant officer John Anthony Walker, who admitted to his part in 1985 to a spy ring that passed military secrets to the Soviet Union over the course of almost 20 years.  As part of a plea agreement, Walker cooperated with prosecutors in exchange for a reduced a sentence of 25 years in prison.  However, Walker died in 2014, less than one year before he would have been eligible for release.
[h/t USNI News, NBC News; image via screengrab]
Have a tip we should know? [email protected]