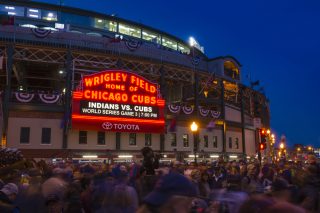 Police in Chicago are taking extra precautions in preparation for tonight's final game of the World Series, even though the game will take place 300 miles away. Game 7, between the Cubs and the Cleveland Indians, will be played tonight in Cleveland, but heightened security measures will be in effect in Chicago nonetheless, WGN reported.
While Wrigley Field, where games 3, 4, and 5 of the series took place, will be closed, thousands of Cubs fans are expected to pack the streets during tonight's game. When the Cubs won the National League Championship Series, an estimated 300,000 people crowded the Wrigleyville neighborhood of Chicago. Even more are expected for the final World Series game, as the Cubs haven't won baseball's biggest prize since 1908. It's hard to predict how fans will react after a game like this. Two years ago, San Francisco Giants fans rioted when the World Series concluded — and their team won.
The same parking restrictions that the city enforced during home games will be in place, and hundreds of police officers will be on patrol to control the throngs of fans. Residents have been notified to carry ID on them at all times.
Over in Cleveland, on the other hand, there doesn't seem to be nearly as much concern, even though the Indians haven't won since 1948. The city's website does have warnings, but so far they're limited to parking near the stadium and advising fans to be wary of counterfeit tickets.
[Image via Kent Weakley/Shutterstock]
Have a tip we should know? [email protected]