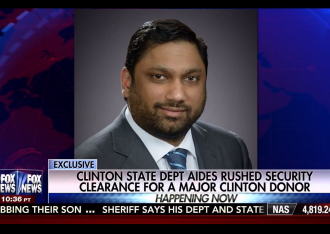 Last week, ABC News reported on newly released State Department emails that shed light on how Clinton Foundation mega-donor Rajiv Fernando was appointed to a sensitive government arms control advisory panel in 2011.  The report included an email that showed that a top Hillary Clinton aide Cheryl Mills was responsible for adding Fernando to the list of nominees to the State Department's International Security Advisory Board (ISAB) despite his lack of experience.  On Thursday afternoon, Fox News reported that it has obtained additional e-mails that raise questions about how Fernando was able to obtain the necessary "Top Secret" clearance needed to attend ISAB meetings.
WATCH: 
Please enable Javascript to watch this video
According to Fox News' James Rosen, the new emails were exclusively given to Fox News by Citizens United who obtained them through a Freedom of Information Act (FOIA).  Citizens United also reportedly provided emails to ABC News last week.
Rosen reports the emails show "dozens of State Department officials working overtime to get Fernando a … 'Top Secret' security clearance before ISAB's first meeting."  Some were outraged that he was even appointed due to his lack of experience. Rosen also added that emails show Clinton aide Huma Abedin "scrambling to accommodate a sudden request by Fernando for some facetime with … [Secretary Clinton]."
Fred Fleitz, from the Center for Security Policy, said he was alarmed that "quite a few emails suggest the State Department rushed the security clearance process so he could attend a meeting of this very sensitive board."
The report also teased that additional details from the emails will revealed on Thursday evening's Special Report with Bret Baier at 6:00 p.m., including "one sent to the woman who was eventually entrusted to go through all of Hillary Clinton's emails to decide which ones should be turned over and which ones should be deleted."
UPDATE: 7:00 p.m.
Thursday evening on Special Report James Rosen added to the original report stating emails show "Fernando was made a special government employee and given an interim 'Top Secret' clearance."
"This appears to be an effort where a Clinton Foundation donor bought himself a seat on a very sensitive board that is supposed to be composed of senior experts to advise the Undersecretary of State for Arms Control on matters of proliferation such as Iran's nuclear program," Fleitz said.
Fernando resigned after attending just one meeting of the Board after ABC News raised questions about  why he was appointed, given his lack of experience.  After his resignation, Clinton aide Huma Abedin sent an email notifying Heather Samuelson about his departure.  Samuelson served as then-Secretary Clinton's liaison to the White House and later she was the woman who determined which of Clinton's e-mails were work related and which could be deleted.
Fernando's spokesman told Fox News that he was a cybersecurity expert and resigned to devote his attention to the European financial crisis.
Have a tip we should know? [email protected]