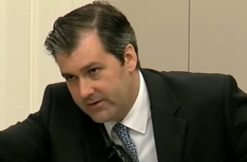 The retrial of South Carolina police officer Michael Slager has been scheduled for March 1. He faces charges in connection to the shooting death of unarmed man Walter Scott during a traffic stop gone wrong. Prosecutors first attempt to put him behind bars ended up in a mistrial in December after an unidentified juror sent the judge a letter explaining that they could not in good conscience vote guilty, while initial details showed that the rest apparently could. However, one note said that the "majority of the jurors" remain undecided. Juror Dorsey Montomery later appeared on The Today Show to say that up to five couldn't reach a decision.
Slager faces life in prison. Attorney Andy Savage argued in court that his client wasn't aware that Scott was unarmed. He also argued that the late motorist started the fight. Video showed Slager shooting Scott, after all, so the mistrial caused a lot of shock. As LawNewz.com's Rachel Stockman put it in a Dec. 5 op-ed:
Slager's defense tried to portray Scott as dangerous, describing a physical altercation between the two men. But in order for Slager to claim that he acted in self-defense, he'd have to show that he was in imminent danger. Not only was Scott nowhere near Slager when the first shot was fired, he was running away with his back to the officer. On top of that, the video didn't show Scott running towards anyone else, so it's not even like Slager could say he was protecting another individual.
The death of Scott, who was African-American, gained a lot of attention as part of a national controversy about black people, and whether they're more likely to be deprived of due process.
[Screengrab via ABC News]
Have a tip we should know? [email protected]