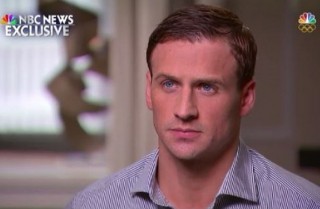 For the past week, the world looked on in confusion as U.S. Olympic swimmer Ryan Lochte stated that he and teammates were robbed at gunpoint in Rio, only for Brazilian authorities to claim the story was false, and then finally information came out showing that the truth was likely somewhere in the middle. While police finally acknowledged that the athletes did hand over money, and armed guards did force them to stay at a gas station at gunpoint, it was only after the swimmers allegedly caused damage to the gas station and tried to leave. In an exclusive interview with NBC's Matt Lauer that aired Saturday night, Lochte apologized for his behavior and how he handled the aftermath of the incident.
Lauer confronted Lochte about giving false accounts of what happened both in an earlier conversation with Lauer and in a televised interview with Billy Bush that led to the story snowballing into what it became. "I left details out and I overexaggerated parts of the story," Lochte admitted.
When asked why he told Bush that someone held a gun to his head, Lochte said, "I don't know why … It was hours after the incident. I was still intoxicated." Lochte admitted that a gun was drawn, but not placed at his forehead, but pointed in his general direction.
The details still seem to be hazy for Lochte, a week after the incident. "It's how you want to make it look like. Whether you call it robbery, whether you want to call it extortion, or just us paying for the damages, we don't know.
"If I were to ask you the same question again right now and say, 'Were you robbed on Sunday morning in Rio?' how would you answer it?" Lauer asked.
"I can't answer that, because … I was intoxicated," Lochte responded. "All I know is there was a gun pointed at us and we were demanded to give money, whether it was to pay for damages of the poster, whether it was extortion, or whether it was a robbery." Lochte admitted that the demand for money was to cut a deal for damage to the gas station, but said, "There was a gun pointed in our direction. We were all frightened."
https://t.co/n82dZH2gfl pic.twitter.com/rGp1nmA94G

— Ryan Lochte (@RyanLochte) August 19, 2016
Lochte apologized, admitting that if it wasn't for "my immature behavior," none of this would have happened. He said that his teammates were not responsible for the damage at the gas station, yet they were the ones stuck in Brazil while he left early to return home to the U.S.
"I let my team down."
Have a tip we should know? [email protected]