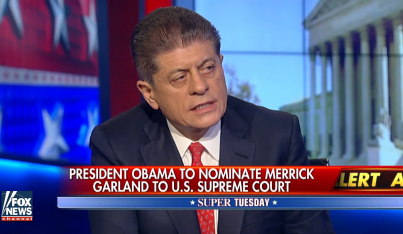 Fox News legal analyst Judge Andrew Napolitano appeared on America's Newsroom this morning to offer his perspective on the nomination of Judge Merrick Garland to U.S. Supreme Court.
Napolitano described Garland as "consummate Washington D.C. insider" with a track record of serving under both Republican and Democrat administrations, however, he suggested Garland's 19-year history on the bench will ultimately work against him as it provides critics with ample opportunity to find something they do not like about his past.
He went on to suggest that Garland's nominee will ultimately be a 'lose — lose" for President Obama.
"Judge Garland, is the most conservative nominee to the Supreme Court by a Democratic president in the modern era.  And is put there, in my view, as a nominee to frustrate the process.  If he gets on the Court, he is not Justice Elana Kagan, he is not Justice Sonia Sotomayor.  He does not think about the law the way Barack Obama does, so Barack Obama does not get the opportunity to appoint Antonin Scalia's opposite number.  If he does not get on the Court then we are still at a stalemate."
Judge Napolitano concluded by saying Obama is incorrect to say the Senate has a duty to vote and confirm the nominee.  He said the Senate has the constitutional and legal right to stand firm and refuse to consider the nomination, although he recognized that such a tactic might ultimately have political consequences.
[h/t Fox News; image via screengrab]
Have a tip we should know? [email protected]