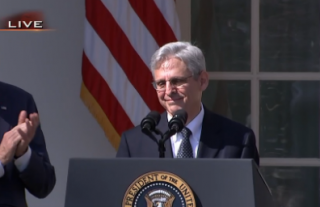 In an announcement from the White House Rose Garden, President Obama announced Judge Merrick Garland as his nominee for the Supreme Court position that has been vacant since the passing of Justice Antonin Scalia.
"This is the greatest honor of my life," Garland said, fighting back tears.
Obama told the audience that he sought the advice of both Democrats and Republicans in Congress when making his decision. Obama described Garland, who has served on the Washington, D.C. Circuit Court of Appeals since 1997, as "uniquely qualified" to serve on the Supreme Court. "He understands the way law affects the daily reality of people's lives in a big complicated democracy, and in rapidly changing times."
Obama lauded Garland's law enforcement background, specifically his supervision of the prosecution of the Oklahoma City bombing, doing everything by the book to assure the guilty parties would not catch a break on a technicality.
The President made reference to the "overwhelming bipartisan praise" that Garland has received in his judicial career, and how he was confirmed to the D.C. Circuit Court by a majority of both Democrats and Republicans. He later added that when he had to fill Supreme Court positions in the past and present, "the one name that has come up repeatedly from Republicans and Democrats alike, is Merrick Garland."
Garland, who was on the short list for replacing Justice John Paul Stevens in 2010 but lost out to Elena Kagan, will now have to face a Republican-controlled Senate who has vowed to block anyone the President nominates.
"I simply ask Republicans in the Senate to give him a fair hearing and then an up or down vote," Obama said, addressing the potential blockade.  "I have fulfilled my constitutional duty. Now it's time for the Senate to do theirs."
Have a tip we should know? [email protected]