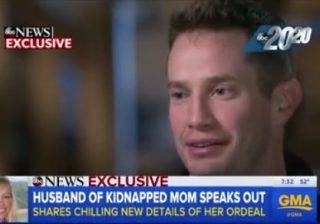 Details about the alleged abduction of California mom Sherri Papini have been slow to come out, but her husband Keith sat down with ABC News for an interview to discuss what happened. Sherri Papini disappeared in early November, only to return on Thanksgiving day, bruised, her hair chopped, and weighing just 87 pounds. A preview of Keith Papini's conversation about what his wife went through aired on 'Good Morning America' Thursday morning.
Keith Papini described the conditions his wife was kept in until she was eventually freed. He said his wife Sherri was chained with a bag over her head, and when she was finally released by her captors, "they opened the door … they cut something to free her restraint that was holding her into the vehicle, and then pushed her out of the vehicle." When Sherri was free, she didn't know where she was, and screamed for help. At first, no one came, and Keith said his wife thought maybe the chains that were still on her made her look like an escaped convict, so she tried to hide them. Eventually, someone stopped and called the police.
Investigators are working on drawing composite sketches of the suspects, although Sherri Papini's head was covered much of the time, and she says she only saw their eyes. Now authorities are trying to get other information that might help them determine where she was kept.
LawNewz.com founder Dan Abrams discussed the case on 'Good Morning America,' exploring what investigators will likely focus on to get to the bottom of this. "Who are these people, why did they do it?" Abrams asked. "Was she targeted? Was it random?" Those are the key questions they need to assess."
Abrams was not surprised by the sparse details that have come out since Papini was found, saying that authorities don't want to tip their hand too much just yet. If the general public knows too much, Abrams said, it encourages false tips. "They want to be able to assess who has real information here, who actually knows something … and the way to do that is to keep certain information private and secret." In fact, Shasta County Sheriff Tom Bosenko worries that even Keith Papini's public statements may be harmful. "I think with some of the details he has provided it could affect the integrity of the investigation," he told the press.
The full interview will air on '20/20′ Friday night.
[Image via ABC News screengrab]
Have a tip we should know? [email protected]