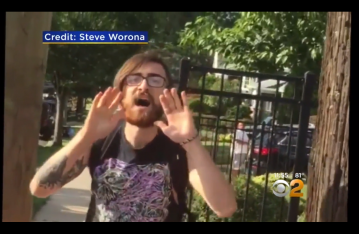 A Staten Island community decided to show support for police officers in the aftermath of the shootings in Texas and Louisiana by placing blue ribbons on trees and utility poles.  However, one resident apparently did not agree with the idea of ribbons hanging in the neighborhood.  A passing motorist took out his camera and began recording when he saw the man tearing the ribbons down.  The motorist posted the video online and it quickly went viral.
"All lives are not being persecuted right now! Black lives are!" the man can be heard angrily saying on the video as he rips down the ribbons.
WATCH:
After the video was posted online, CBS 2 News reports the vandal was quickly identified as Stephen Varvaro.
"People immediately recognized him and immediately put his name out on Facebook, and that's all it took," Staten Island resident Rita DiGennaro told CBS2 News.
Other residents reportedly said they found Varvaro's actions "disturbing" and "disgusting."
Vavaro apparently got the message and is now apologizing for his actions and saying "doesn't feel safe on [Staten Island] anymore."
Have a tip we should know? [email protected]