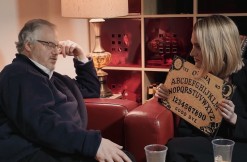 Gothamist managed to score a video interview with the actual Ken Kratz. You probably remember him as the prosecutor in Steven Avery's trial for the 2005 murder of photojournalist Teresa Halbach, as depicted in the Netflix documentary Making a Murderer. He's became a villain for viewers who think Avery shouldn't have been convicted.
Kratz's life has taken a slight nosedive since the case. He was accused in 2009 of sexting a domestic violence victim whose ex he was prosecuting, and oh, god, he admitted it.
He sat down with Jena Friedman to talk about the documentary and what he's doing with his life. Like being a defense attorney now a days. Who'd have thunk?
And in almost no way does Friedman seem to take the interview seriously, but maybe it was really hard to. And she's actually a comedian, after all:

We Sat Down With Ken Kratz of Making A Murderer by Gothamist
"Do you think your lack of likability c–kblocked your case," she asked him at one point. She even invited him to a game of F—K/Marry/Kill. And asked him what he'd write if he wanted to sext her. And then she whipped out the Ouija board.
No. No, Gothamist! Bad, Gothamist! Bad! Bad, Bad! And it doesn't help Krantz that he blanks on certain details about the case, like the name of a certain nurse.
[image via screengrab]
–
>> Follow Alberto Luperon on Twitter (@Alberto Luperon)
Have a tip we should know? [email protected]