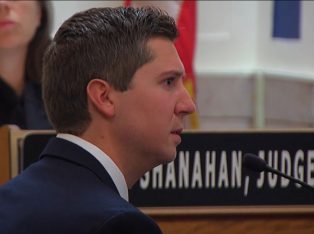 Former University of Cincinnati police officer Ray Tensing took the stand in his own defense on Tuesday.  Tensing is charged with murder in connection with the shooting of motorist Sam DuBose during a traffic stop in July 2015.
During his testimony on Tuesday, Tensing addressed the black t-shirt with a small Confederate flag that he wore under his uniform on the day of the shooting.  Tensing told the jury he received the shirt a long time ago as a gift and he wore it because he was required to wear a black t-shirt under his uniform.  He said the Confederate flag had no meaning to him and it never occurred to him that it was even on the t-shirt until after the shooting.
Tensing also testified about his state of mind during the shooting and became emotional when he described his belief that DuBose was trying to run him over with his vehicle.
WATCH:
"So I'm falling backwards and I'm falling lower and lower . . . against his driver's door," Tensing said. "I remember thinking, 'Oh my god,' that he's gonna run me over and he's gonna kill me."
Tensing told the jurors he believed he was being dragged at the time he fired the fatal shot.  Prosecutors, however, have argued the fatal shot was fired before DuBose's vehicle moved.
In addition to Tensing, the defense called a use of force expert who testified the shooting was justified under the circumstances.  The expert was the final witness called by the defense and they rested their case early Tuesday afternoon.
Closing arguments are expected to begin on Wednesday morning and then the case will go to the jury.
You can watch the closing argument live on LawNewz.com.
[image via screengrab]
Have a tip we should know? [email protected]