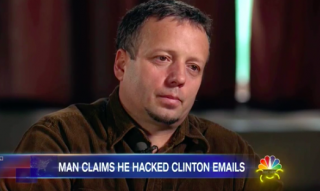 An excerpt of the much anticipated interview with NBC News correspondent Cynthia McFadden and the infamous Romanian hacker Guccifer aired on Thursday evening during Nightly News.  In the excerpt, Guccifer (real name Marcel Lehel Lazar), not only admits to hacking into Hillary's Clinton's e-mail account, but he also claims to have gained "total access" to Clinton's entire private e-mail server because she left it "completely unsecured."  What's more, cybersercurity experts that spoke to NBC News all concluded that Guccifer appeared to have to necessary skills to hack Clinton's server.
According to the NBC News report, Guccifer explained that in 2013 he hacked Clinton confidant Sidney Blumenthal's e-mail and uncovered the now infamous [email protected]  He soon realized the initials HDR match Clinton's maiden name, Hillary Diane Rodham, the report says.  Guccifer told McFadden that he then used data from the e-mail header to locate Clinton's server
"By running a scan, I found that server…that was completely unsecured," explained Guccifer.
"It was like an open orchid on the Internet," he said of Clinton's server.  "There were hundreds of folders."
He claims to have viewed and downloaded many of Clinton's e-mails, although he could not provide proof to NBC.
Somewhat skeptical of Guccifer's claims, NBC News asked multiple cybersecurity experts to analyze Guccifer's claims of how he accessed Clinton's server, and all reportedly concluded that it was possible.
NBC News reports:
[A] former FBI special agent who ran major cybersecurity probes found [Guccifer's] story credible.

NBC News asked Chris Tarbell, who broke open the Silk Road case, to review Lazar's explanation of how he got into the server.

"It's plausible," Chris Tarbell said, adding that Lazar's conviction for hacking in Romania showed he had the know-how to carry it out.

Tarbell added that he could not imagine why Lazar would make up a claim that could get him in very hot water.

"To go on television and admit to a felony you didn't commit seems a little silly," he said.
WATCH:
According to McFadden, a source close to the FBI investigation said that an review of Clinton's server logs showed no evidence that the server had been breached.  Furthermore, Clinton campaign spokesman Brian Fallon reiterated similar claims as part of lengthy statement in response to the NBC News report. '[It] has been reported that security logs from Secretary Clinton's email server do not show any evidence of foreign hacking," Fallon said, according to the report.
However, Tarbell explained that such logs do not always provide the whole story and they cannot be used as conclusive proof that the Clinton server was not hacked.
"So, it may be that there is no breach that was recorded, [but] that doesn't mean there as no breach?" McFadden asked Trabell.
"Correct," Tarbell replied.
Have a tip we should know? [email protected]